Take the one dated April 3, 2003, two weeks into the invasion, just as Shock and Awe hit its first potholes. Two days earlier, on April 1, a panicky Pentagon had begun spreading its hyped, fictional account of the rescue of Pvt. Jessica Lynch to distract from troubling news of setbacks. On April 2, Gen. Joseph Hoar, the commander in chief of the United States Central Command from 1991-94, had declared on the Times Op-Ed page that Rumsfeld had sent too few troops to Iraq. And so the Worldwide Intelligence Update for April 3 bullied Bush with Joshua 1:9: "Have I not commanded you? Be strong and courageous. Do not be terrified; do not be discouraged, for the LORD your God will be with you wherever you go." (Including, as it happened, into a quagmire.)

What's up with that? As Draper writes, Rumsfeld is not known for ostentatious displays of piety. He was cynically playing the religious angle to seduce and manipulate a president who frequently quoted the Bible. But the secretary's actions were not just oily; he was also taking a risk with national security. If these official daily collages of Crusade-like messaging and war imagery had been leaked, they would have reinforced the Muslim world's apocalyptic fear that America was waging a religious war. As one alarmed Pentagon hand told Draper, the fallout "would be as bad as Abu Ghraib."

PZ Myers comments:
It's appalling on so many levels: that Rumsfeld thought that polishing up his report with the jingoistic equivalent of a clear plastic binder would win him points; that it apparently worked; that religion was used to promote war in the White House; that it was used despite the fact that it could worsen our chances of success. And we still have Dick Cheney doing a cheerful media tour encouraging us to support torture, which really wasn't torture, but if it was, it was good for us.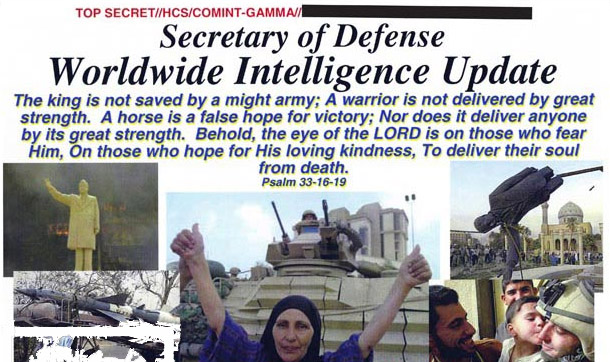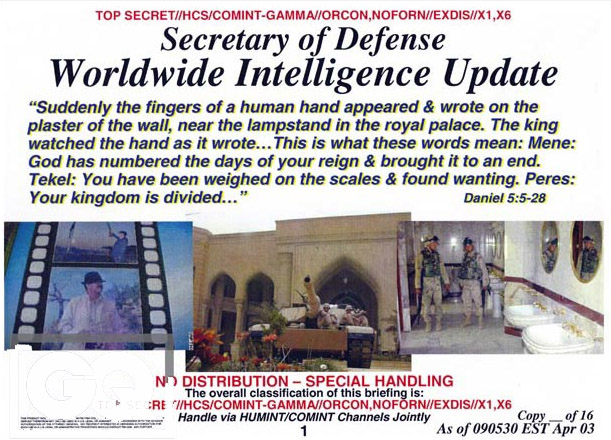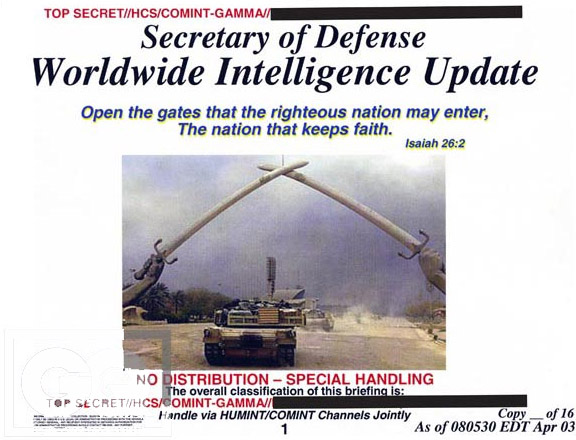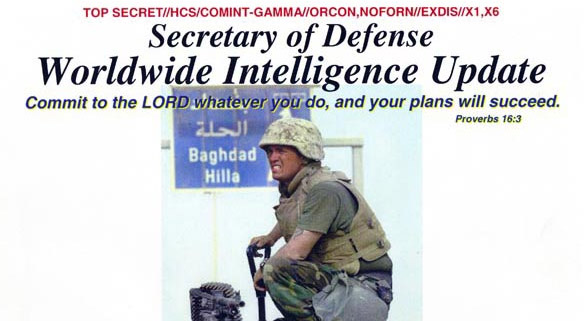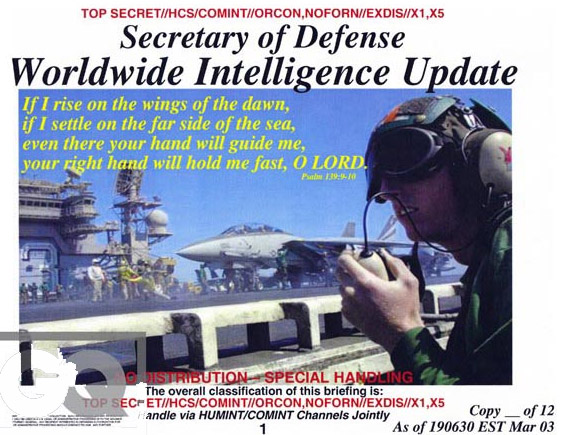 UPDATE:

WASHINGTON - The Pentagon said Monday it no longer includes a Bible quote on the cover page of daily intelligence briefings it sends to the White House as was practice during the Bush administration.

Pentagon spokesman Bryan Whitman said he did not know how long the Worldwide Intelligence Update cover sheets quoted from the Bible. Air Force Maj. Gen. Glen Shaffer, who was responsible for including them, retired in August 2003, according to his biography.

For a period in 2003, at least, the daily reports prepared for President George W. Bush carried quotes from the books of Psalms and Ephesians and the Gospel of Peter. At the time, the reports focused largely on the war in Iraq.

The Bible quotes apparently aimed to support Bush at a time when soldiers' deaths in Iraq were on the rise, according to the June issue of CQ magazine. But they offended at least one Muslim analyst at the Pentagon and worried other employees that the passages were inappropriate.

On Thursday, April 10, 2003, for example, the report quoted the book of Psalms ? "Behold, the eye of the Lord is on those who fear Him. ... To deliver their soul from death." ? and featured pictures of the statue of Saddam Hussein being pulled down and celebrating crowds in Baghdad.

"Therefore put on the full armor of God, so that when the day of evil comes, you may be able to stand your ground, and after you have done everything, to stand," read the cover quote two weeks earlier, on March 31, above a picture of a U.S. tank driving through the desert, according to the magazine, which obtained copies of the documents.

The Rev. Barry W. Lynn, executive director of Americans United for Separation of Church and State, on Monday said U.S. soldiers "are not Christian crusaders, and they ought not be depicted as such."

"Depicting the Iraq conflict as some sort of holy war is completely outrageous," Lynn said in a statement. "It's contrary to the constitutional separation of religion and government, and it's tremendously damaging to America's reputation in the world."